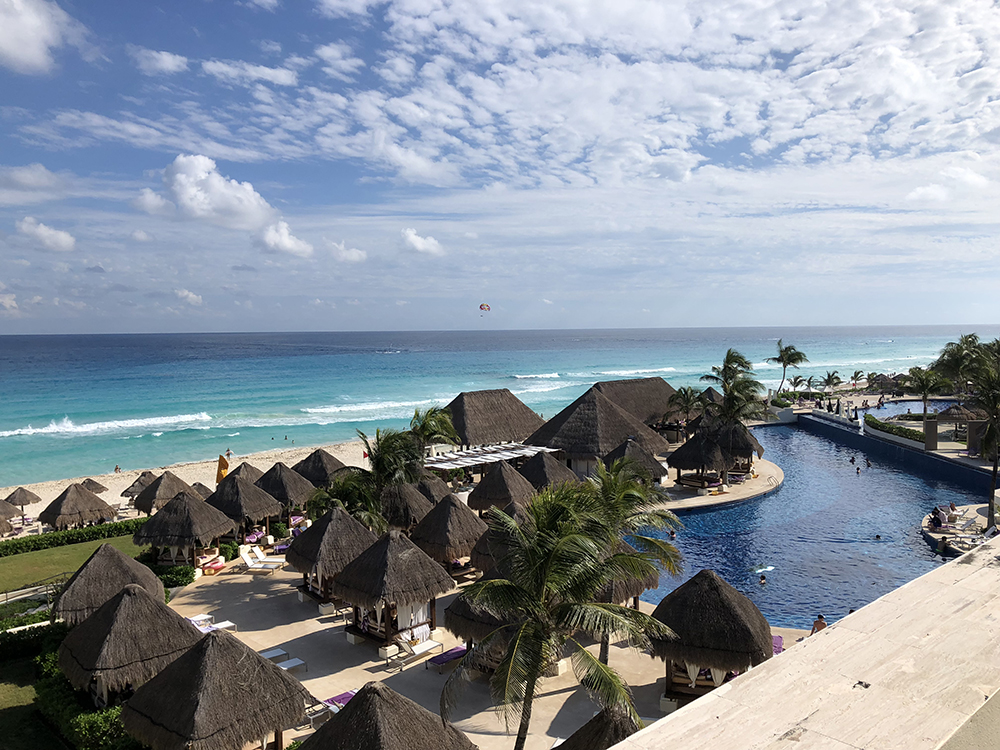 The Royal Service at Paradisus (Cancun) | Fall 2018

A few years ago, a woman I met at the bar at The Ritz-Carlton in Puerto Rico recommended giving Cancun another try. Two caveats she mentioned:  go all-inclusive (do we really need to revisit Señor Frog's???) and adults-only, please.
Since that conversation, my husband and I, (for work or for pleasure), have stayed at Le Blanc, Nizuc, and Secrets the Vine. This Thanksgiving, we decided to try the Royal Service at Paradisus. To be clear, Paradisus is a large, family-friendly all-inclusive (buildings 1-4), while the Royal Service is its adults-only side (building 5) with its own pool, beach and restaurant.   
Initially, I was managing my expectations mostly based on the price point – roughly $2,300 for five nights, all-inclusive, with private transfers to and from airport and a one-bedroom ocean view suite. Of course, I did my homework and read dozens of reviews, but there were inconsistencies regarding the beach, the food, etc. Overall, I would say the resort exceeded my expectations.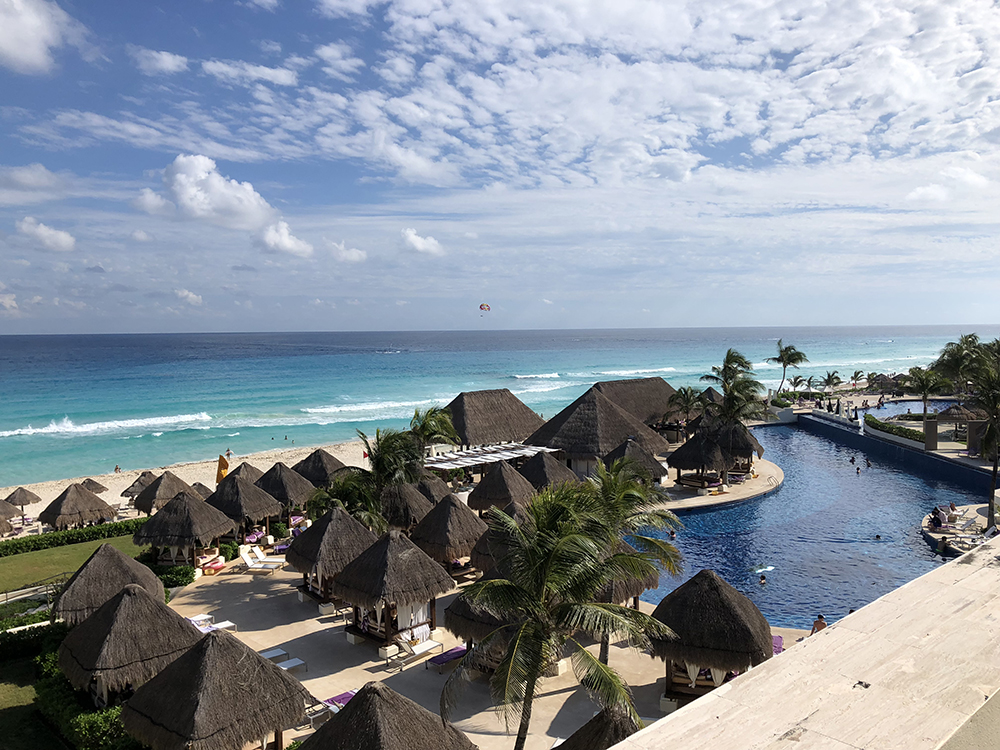 Although I was expecting a pretty good room based on the level of upgrade I chose, I was not prepared for how nice it actually was. We had two full bathrooms, a separate living room and three balconies overlooking the ocean with three sets of chairs for lounging and/or sunbathing. My only complaint is that the bathroom that had the makeup mirror was extremely dark. I would suggest adding a makeup mirror to the second bathroom if possible.
Let's Begin with the Positives
Hands down, Paradisus had the best service we have seen at any Cancun resort. Hector, our butler, was truly amazing. Not only was he in constant, proactive contact with me via WhatsApp, but he was also on foot and in-person at the pool, our room, etc. (I'd like to contrast this with other resorts that assign you a private butler who mans a desk and cannot make change or even get ice – more common than not.) Hector has worked at a variety of resorts in Cancun and his expertise showed: steaming clothing (one piece included free per day), booking Bali beds without having to be asked, texting me on his day off to ask how we were doing, even offering to book offsite dinner reservations. He was unquestionably the most impressive part of our visit. Alongside Hector were other phenomenal servers at the pool, on the beach and definitely at the bars. We do tip $1 per drink, food, water, etc., but others who did not appeared to have the same level of service.
La Palapa, the Royal Service's only restaurant, had surprisingly good food. Not only was the sit down good, the poolside baskets were excellent in terms of taste and timing. (Again, I compare this with other resorts where the food takes forever to be delivered to your beach chair and is cold and lousy when it finally arrives.) Also, they had a great variety (better sitting down) not just burgers or Mexican food. Unfortunately, they had just started a new policy where the restaurant is not open for dinner. I would change this immediately as this might be my only deal breaker for a return visit – more on that later.
Paradisus is located along the Zona Hotelera (Hotel Zone) and is closer to the airport than any property where we've previously stayed (with the exception of Nizuc, which is on a natural preserve). I was a bit worried about the beach, but to my surprise, it was stunning. The water was gorgeous – if there are seaweed issues, we did not have any during our trip.
The nice thing about the Royal Service is that it is the more relaxing, grown-up side of the resort (and the crowd reflects this). But what's also nice is if you want to whoop it up, the other side of Paradisus has swim up bars, a nightclub and even shows.
For Your Consideration
I had read enough reviews to know which restaurants were favored on the Paradisus side, but I can honestly tell you I found most of the food to be borderline inedible. We had grisly stews and old, broken mussels, lousy soups and tasteless tacos. Blue Agave has the potential to emulate great Mexican street food as its open late and is basically just tacos and quesadillas, but it was bland and the service was lacking. Since there were kids everywhere (and we are talking a 9:30 p.m. reservation at Mole, the "upscale Mexican restaurant"), I would let them have their fun and their side of Paradisus. I would only like to see La Palapa open for dinner again and for the price, I advise go (like we did) to Harry's Grill Prime Steakhouse & Raw Bar offsite for a fabulous meal. Make this change and we would happily return to carry on like we did this year.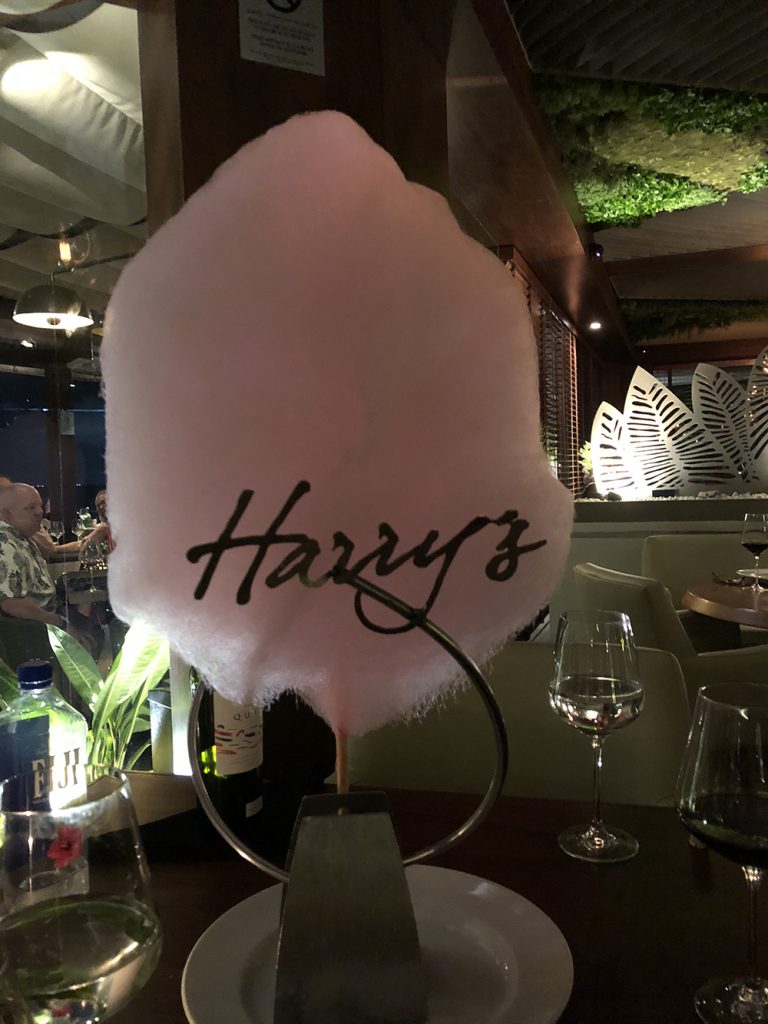 If You Go
A little goes a long way. Bring a stack of $1 and $5 bills to say thank you for extraordinary service.
La Palapa is a great spot for breakfast or lunch, but you may need to venture offsite (like Harry's) if you're in search of a special dinner experience.