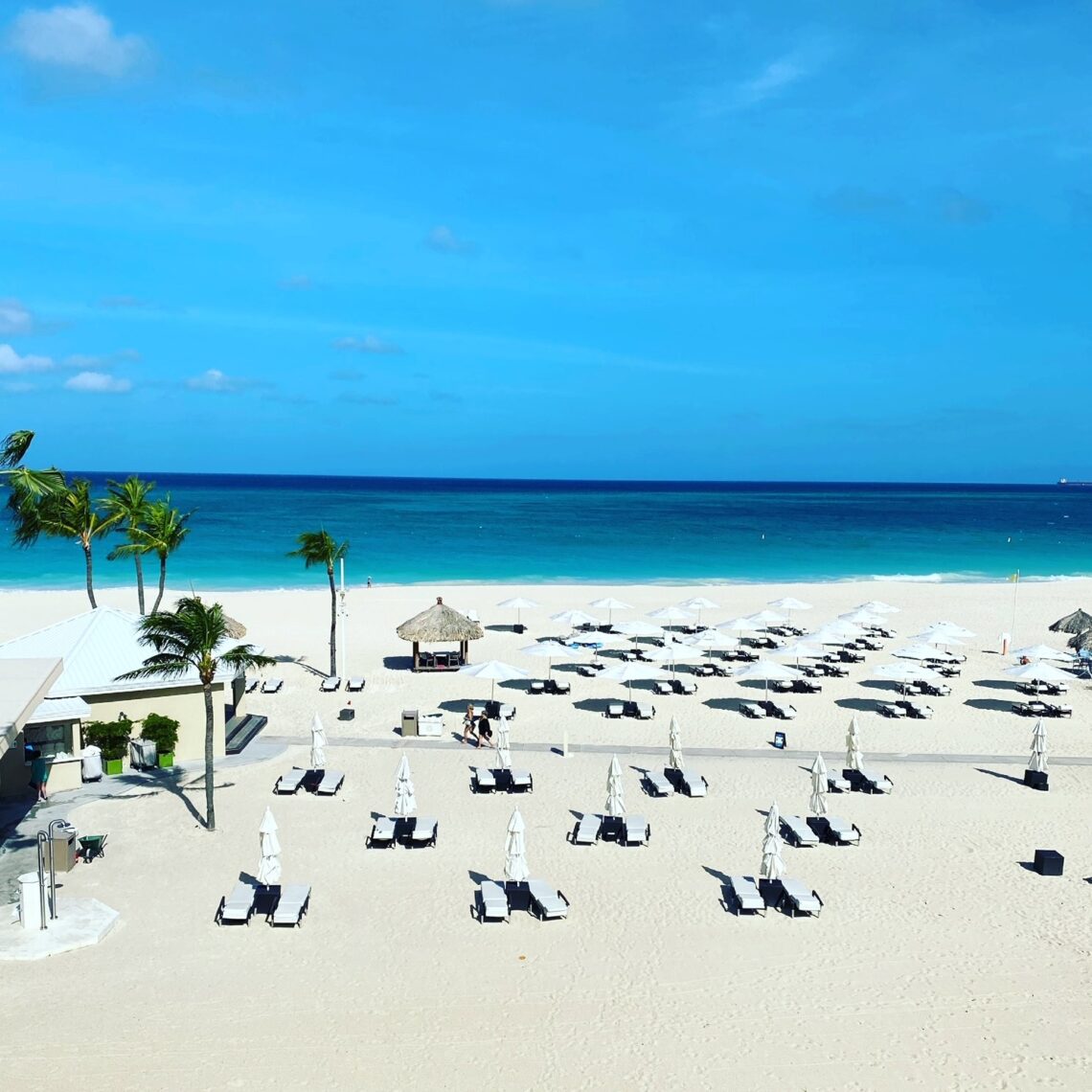 Bucuti & Tara Beach Resort Revisited (Aruba)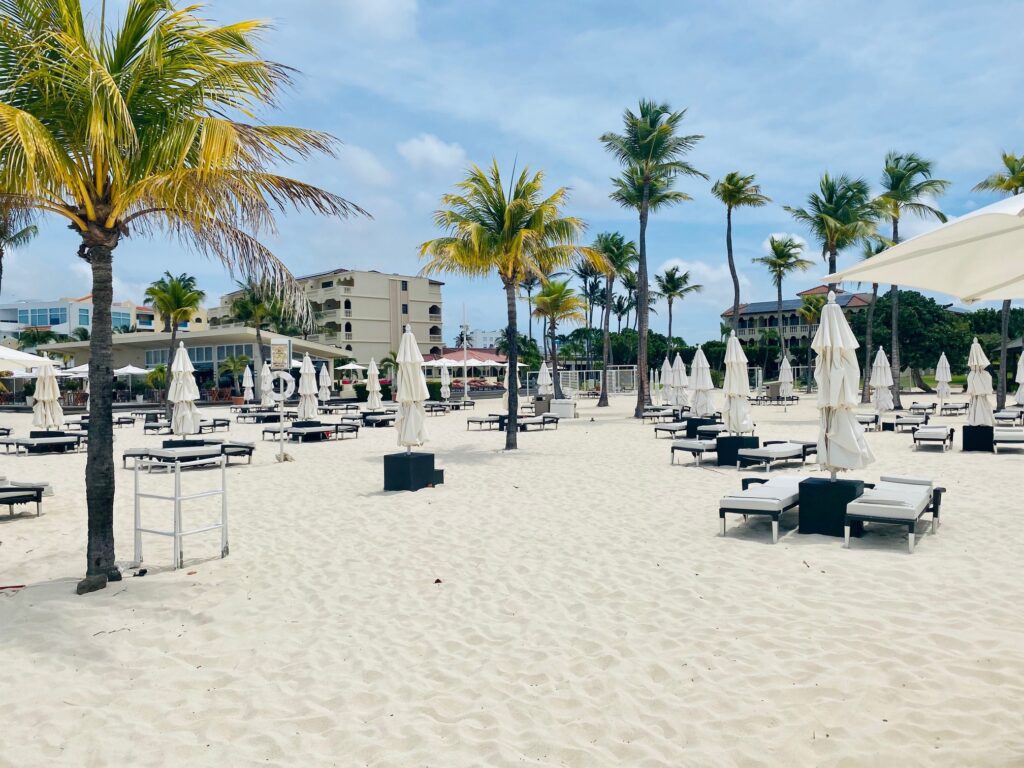 We could have gone anywhere; we chose Bucuti.
As soon as my husband and I secured a date to get vaccinated, we meticulously deliberated where we would take our first trip. We had the world to choose from, but the haven that called to us was Bucuti & Tara Beach Resort.
Readers of Carrying-On might remember our trip from March 2019, where I extolled the virtues of Aruba as the most revisited island in the Caribbean, Eagle Beach as one of the best beaches in the world, and Bucuti as a phenomenal adults-only paradise.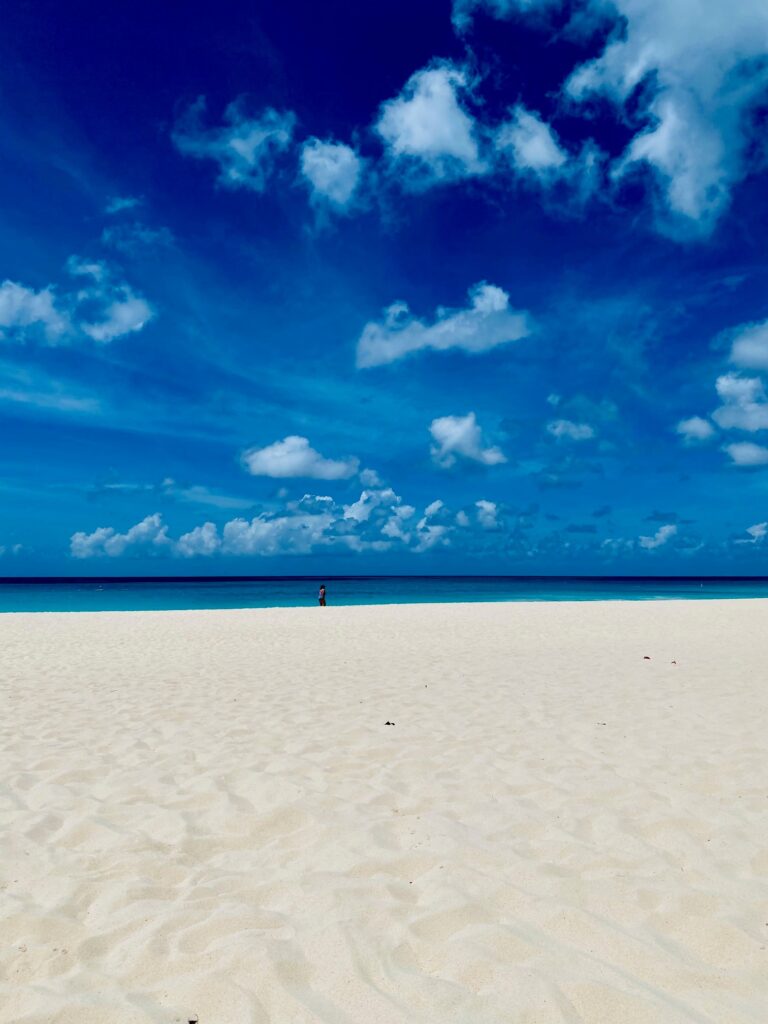 What's changed in the twelve years since our first visit is that we have gotten to know the staff, and they feel like family. It is not an overstatement to say that after the year we had in 2020, returning to Bucuti was a little emotional. I could not wait to see Madeline—the concierge with whom I've dished over the years about all the best experiences we've had at Aruba's diverse array of restaurants—and I gave Orville, our favorite Bucuti beach attendant, a huge hug when he greeted us with his amazing smile on our first morning there.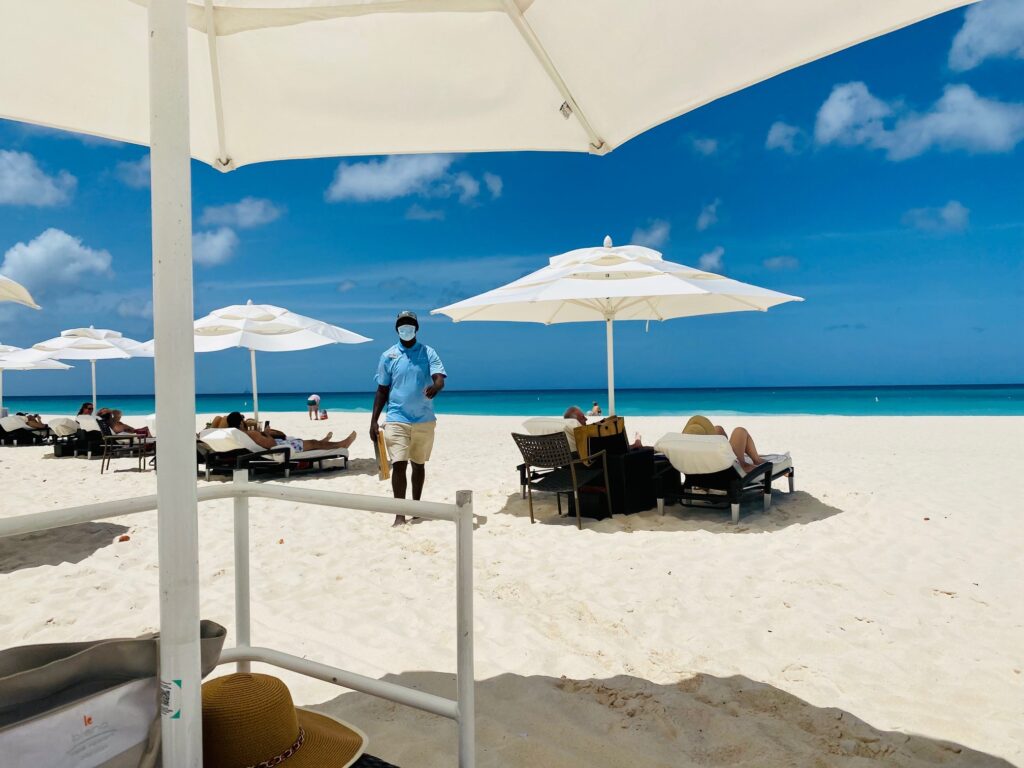 It was interesting to hear how they had been faring. It was also encouraging—the resort never closed throughout all of 2020. Ewald, the owner, kept everyone who wanted to work on the payroll and invested in improvements. The fruits of their labor were visible everywhere: the lobby glistened, the beach bathrooms were totally renovated, even the pool deck was resurfaced. As business owners ourselves, it felt great to support like-minded individuals who believe in investing in their property and their people.
One of my favorite improvements was installing iPads in every room. Now, guests can reserve their beach chairs for the next day as early as 5 p.m. the evening prior. A resort requiring guests to run down to the beach to snag a spot at 7 a.m. is like charging for water and Wi-Fi: ludicrous for any hotel worth their salt and sadly common in this day and age. How nice it was that Bucuti took the initiative and leveraged modern technology to rid us of this chore, eliminating the source of more guest arguments than almost anything I have witnessed in my 40 years of travel.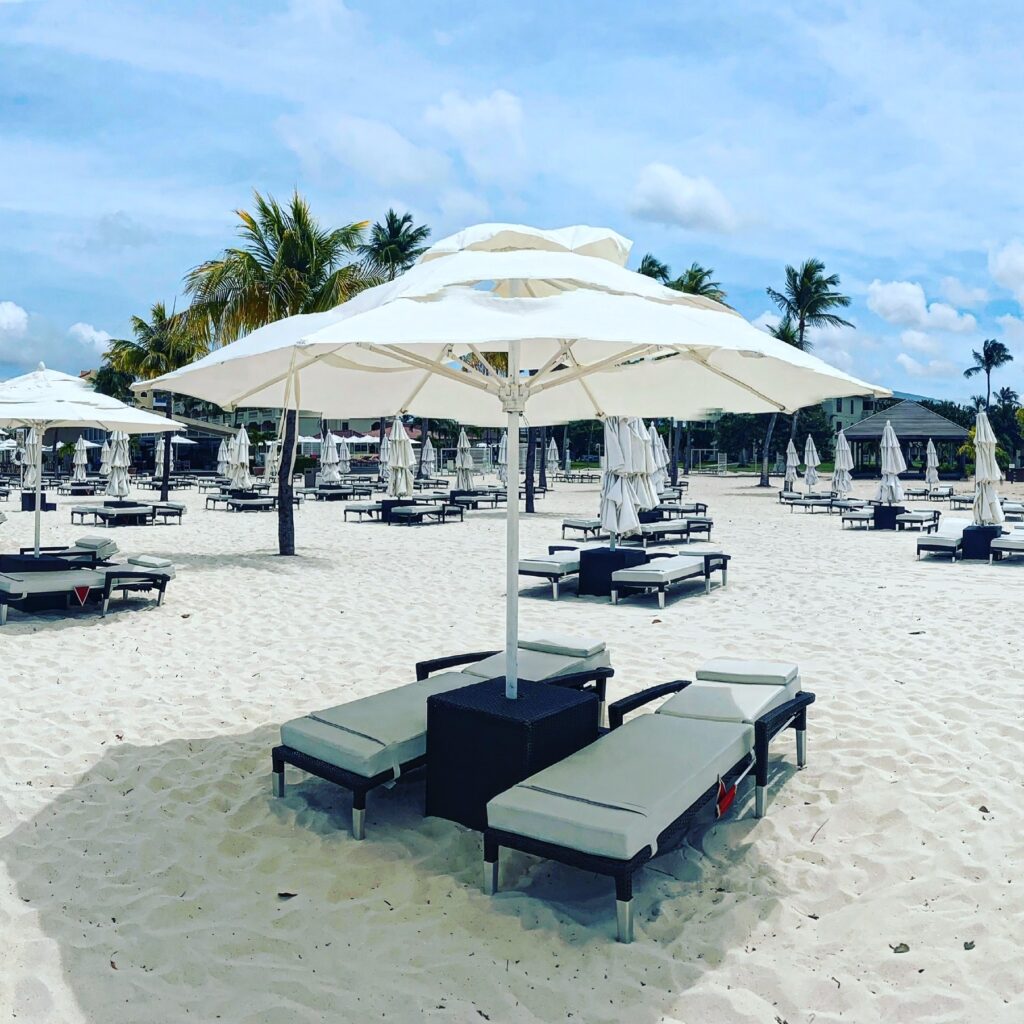 Another huge improvement was implementing provisioning services in advance of check-in, as Bucuti does not have room service or provide mini bars in their guest rooms. They do have a gift shop with supplies on site, but the ability to stock up before your arrival for a spur-of-the-moment wine and cheese party was invaluable.
Bucuti was only at 50% occupancy at the time of our visit. As much as I wanted to see the resort thriving, I must admit it was nice to be so pampered with all the attention. Nancy prepared our yummy omelets for breakfast in record time; seats at the bar were plentiful at our nightly happy hours, and the live music was as good as ever. My new favorite memory was carrying on to artist Chris Kross playing "Africa." The irony of listening to a song about "the rains down in Africa" while sipping a Heineken 12 degrees north of the equator was not lost on me.
For lunch and dinner options, we hit all of our favorite haunts—fish tacos at Manchebo, the Beef Carpaccio Bombe at Yemanja, short ribs at Wilhelmina.
I have written extensively about dining in Aruba in the past. The only note worth repeating is the advice to not go all-inclusive as the island's restaurants are fantastic.
We also booked an Aruba Private Charter with Mike and Peter, where we cruised aboard their 50-foot historical vessel Chubasco. The boat was built in 1935 and is ideal for those wanting total privacy and to avoid the atmosphere of a booze cruise. We snorkeled the SS Antilla shipwreck of WWII and along the Arashi Beach at the northwest tip of Aruba. For $500, you get a private two-hour charter (morning or afternoon), two to three snorkel locations, snorkel gear, and unlimited rum punch. The only caveat is that although it is a sailboat, they do not raise the sails but simply use the engine.
Our nightly stay in a Tara Suite was $780 including breakfast, taxes, and fees. There are more affordable room options available as well. (Of note: there are three- or five-night minimums, depending on the time of year.) We hope to return to Aruba in 2022. Bucuti was recently named TripAdvisor's 2021 #1 Hotel for Romance in the Caribbean. These accolades tend to bring the crowds, but I am happy for the resort's success. I might lunch at Manchebo and cocktail at the Ritz, but there is nowhere on the island I would rather stay than Bucuti.