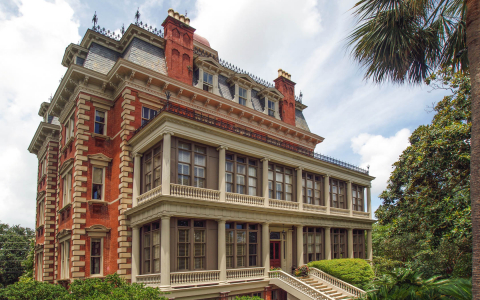 Wentworth Mansion (Charleston, SC)
The Road Trip Continues.
For nights two and three of our recent road trip, my husband and I stayed in Charleston at the magnificent Wentworth Mansion. A member of the Small Luxury Hotels of the World (SMLH), this historic mansion was a pleasant surprise of sophistication and comfort at a time when we were still dipping our toes back into traveling. Quite simply, the Wentworth Mansion exceeded every expectation.
After a long day of driving, we pulled into the secluded parking lot a little after dark. (descriptor) The Wentworth Mansion is an ornate boutique hotel in a prime location of Charleston. We traveled up the stone pathway to the entrance and were greeted by Justin, the night manager. Of everything I was impressed with (and there were many things), the service at Wentworth was at the top of my list. A hotel of only 21 rooms, it was not overly staffed, but everyone we encountered was so kind, polished and professional. The attention to detail did not go unnoticed.
Justin kindly informed us we had been upgraded from a king east wing room to a king mansion room. At a time when so few were traveling, this was a kind accommodation.
The check-in process included a brief description of the layout of the hotel, its COVID policies (mandatory masks for all except when dining) and amenities. The following items were complimentary during our stay:
Wi-Fi
24-hr concierge services
Full breakfast
Evening turndown service with housemade chocolates
Evening port, sherry and brandy
Onsite spa * (suspended during COVID)
Afternoon wine and hors d'oeuvres
In-room soft drinks and bottled water
Complimentary valet parking (suspended during COVID)
Onsite dining *
Access to nearby Athletic Club
* Additional fees apply
For your consideration: like bottles of water and Wi-Fi, include all fees in your rates, please do not nickel and dime me, and do not charge separately for parking. The Wentworth Mansion does it right.
As the bellman escorted us to our elevator, we experienced another first of our trip: people eating and drinking indoors. Depending on where you live, this is probably not a rare sight to see, but coming from the Northeast (and lockdowns), it was a bit startling. And yet, they looked so… comfortable. A handful of couples were enjoying the hotel's nightly happy hour, including wine and hors d'oeuvres, by the fireplace or on the porch—all very socially distanced. For the first time since March, I really wanted to… join them.
However, we were already late for a business dinner, so we hurried to our room, freshened up and headed to our outdoor meal in Charleston on the coldest night of the year. #2020justkeepsgettingbetter
The next day, nestled in our bed and our robes, we were excited to try the hotel's southern breakfast. As a COVID precaution, room service was delivered to our room with a knock on the door and a handing off of trays. Regardless, it was fantastic. The sausage gravy was so good that I had it both mornings.
Our room was quite cozy with beautifully appointed décor, a gas fireplace, an oversized whirlpool tub, a large bathroom with a vanity mirror and a walk-in shower. I enjoyed working on my computer, in our king-sized bed, while my husband prepared for a huge webinar with more than 500 participants scheduled to attend.
During the previous night, we asked Justin about private meeting locations within the hotel ideal for the needs of our webinar. He kindly lent us (at no additional fee) the beautiful library, which was the perfect location to host our broadcast meeting. Complete with a formal desk, mahogany bookshelves and a strong internet connection, it provided the perfect backdrop (with the most handsome presenter…in my opinion).
After the webinar, we went up to the hotel's phenomenal lookout. The spiral staircase is an architectural gem. It leads up to a private cupola that features a 360-degree view of Charleston's historic downtown district.
Later that evening, we had dinner with two family members at Circa 1886, the Wentworth's signature restaurant. Nestled in the mansion's secluded garden courtyard, Circa 1886 was recently voted #2 Best Hotel Restaurant in the United States by USA TODAY 10 Best. It is also the recipient of the Forbes Four Star Award. The service was impeccable, again, which was not an easy feat as our guests were very picky eaters. However, we enjoyed the following menu selections:
Foie Gras|Cassava Pudding | Pomegranate Strawberry Jam | Hazelnuts | Lime Basil Oil | $26
Preserved Rabbit |Corn Cob Bouillon | Seewee Bean Succotash | Hickory Nut Oil | $16
Sea Scallops | Blue Corn Grits |Copper Carrots |Brussels Sprouts |Vanilla Bean Vinaigrette|$42
Broken Arrow Venison|Roasted Onion Parsnip Potato Puree|Juniper Chestnut Sauce | $43
Bittersweet Chocolate Crémuex | Salted Bourbon Caramel | Seasonal Berries | Pistachios |$13
Apple Rum Soufflé | Hot Toffee Sauce | Candied Praline Ice Cream | $12
After dinner, we said our goodbyes and headed back to the hotel. It was late on a Wednesday night, there we no other guests in sight. Upon our arrival, the gentleman working the front desk asked us if we'd like a glass of port. Should we? We walked over to the fire, sat down, took off our masks and said, "Yes, please."