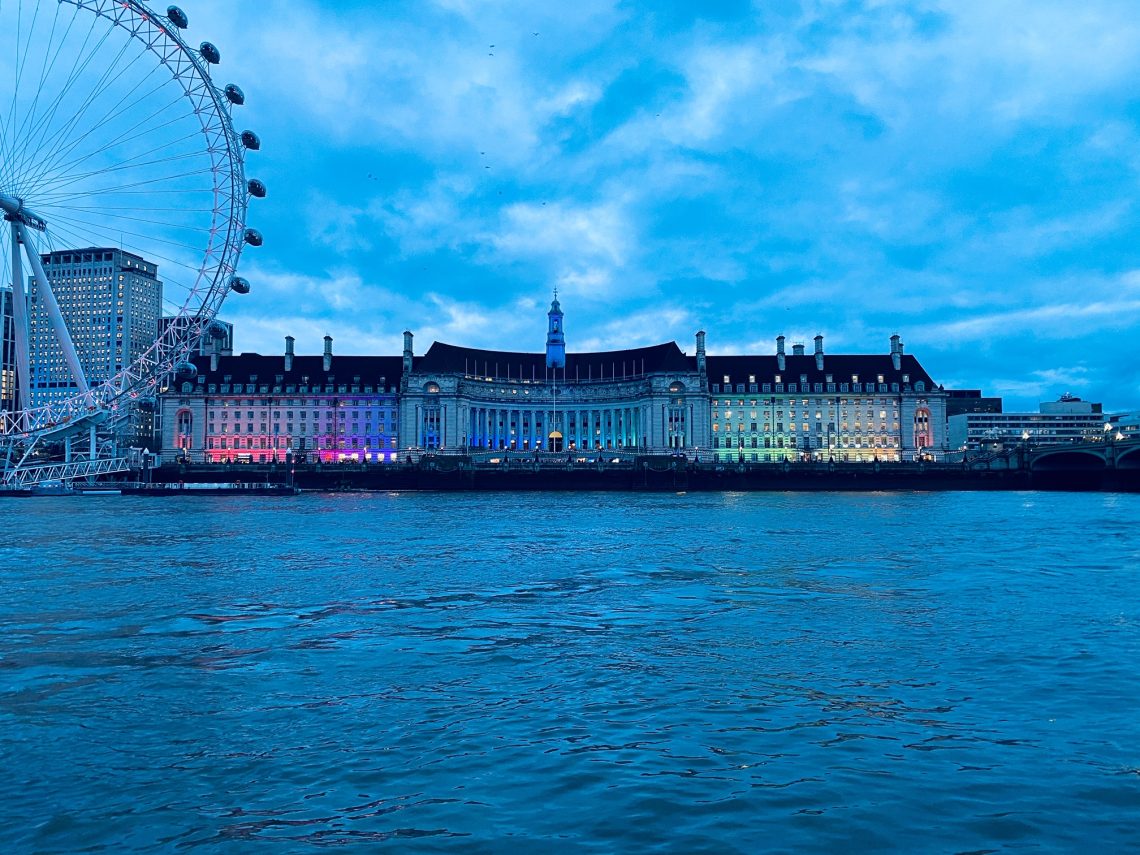 London Calling (London, England)| Winter 2019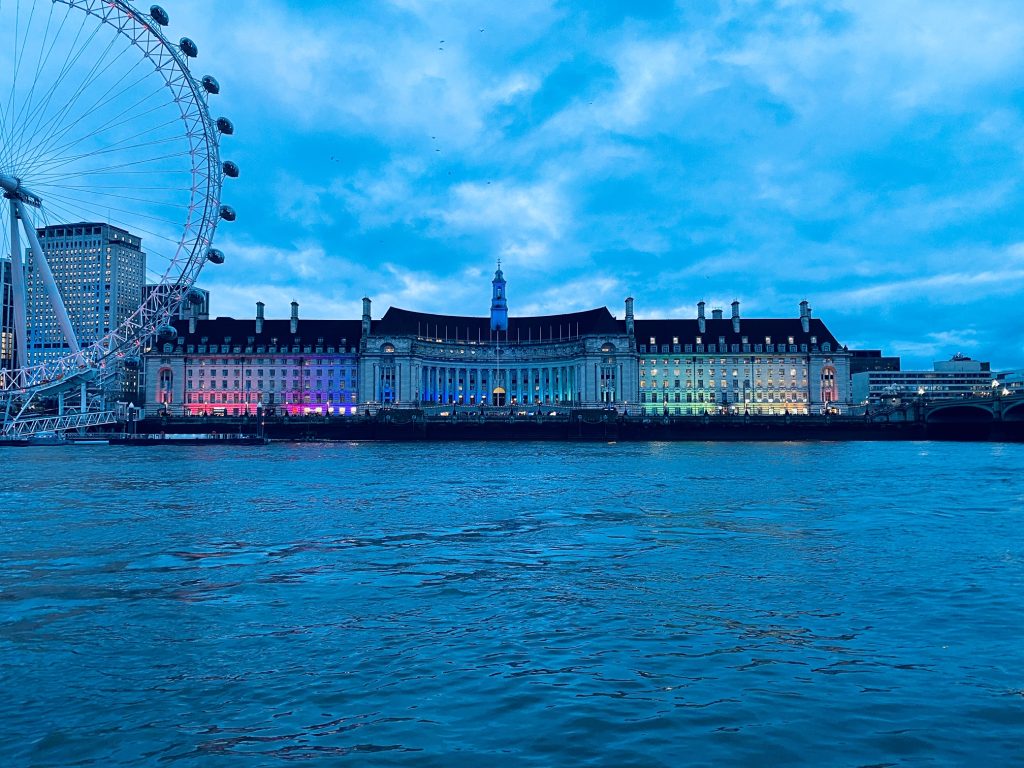 Five weeks ago, I was preparing for trips to New Hope, PA in the fall and Mexico for Thanksgiving, when I received a wedding invitation in the mail. Our friends were getting married in London in December—just a month away. Having never been to the UK, I literally thought, "Is London calling?"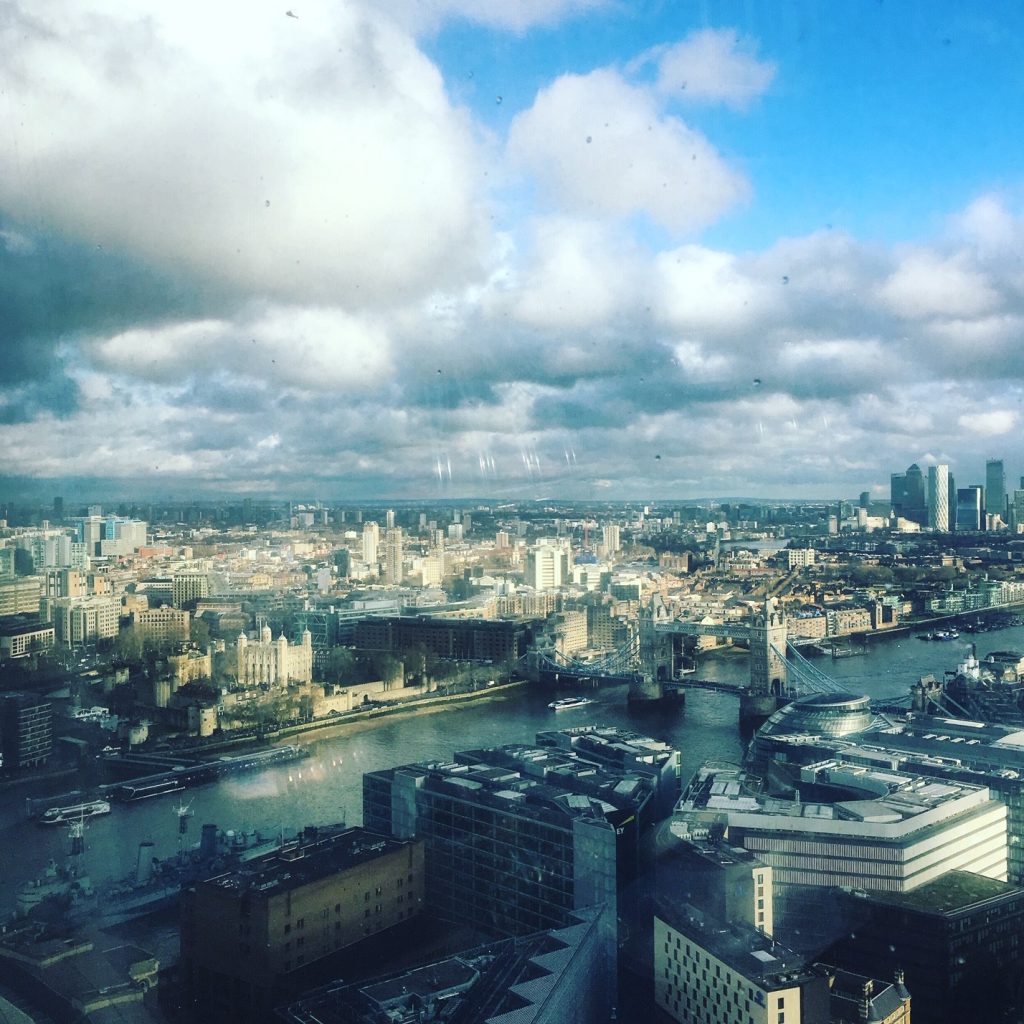 I immediately sent a text to my husband who was in the throes of his own year-end business planning. You know you've met your ideal partner when you send a picture of a wedding invitation in another country at 3:35 p.m. and the response you receive at 3:44 p.m. is "Let's go."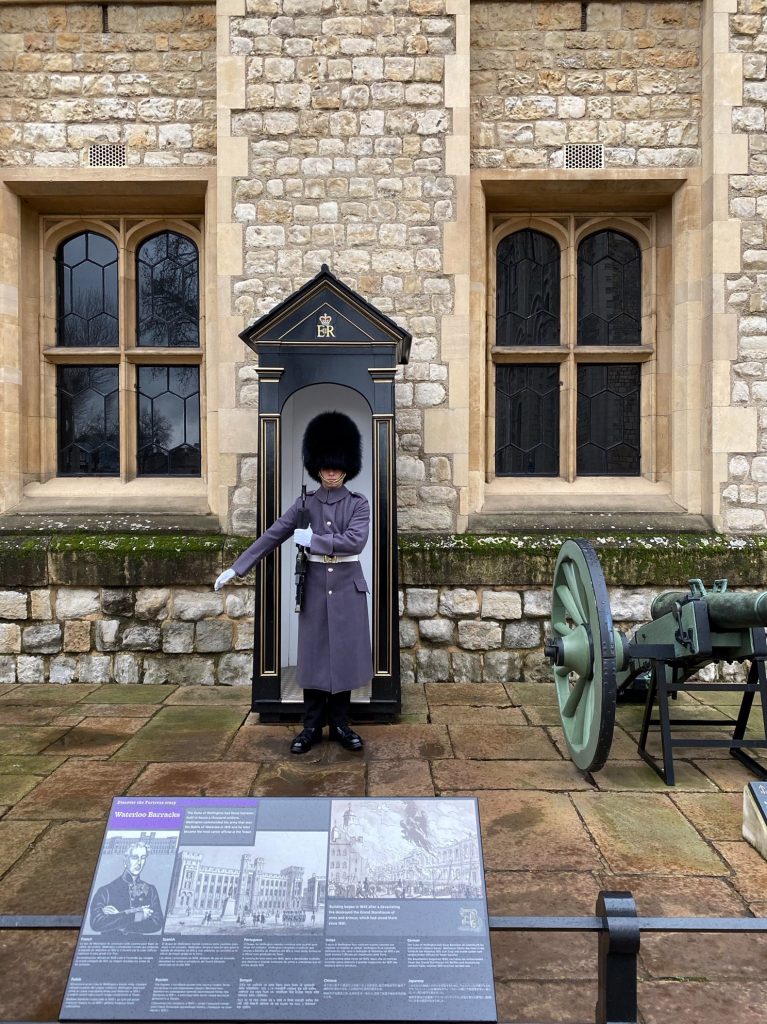 Lest you think this spontaneity is typical for us, it is not. Anyone familiar with Carrying-On knows I am an obsessive planner and organizer when it comes to travel (and most aspects of life if I'm honest). It is my nature to do a ton of research—in the interest of full disclosure, this does not always guarantee success. So how was I to plan a trip to London in four weeks' time?
Let's Begin with the Positives
The first thing I had to do was surrender. (Again, this does not come easy.) But both in the interest of time and the fact it was a wedding, there were going to be events already planned and a hotel already selected. Secondly, one of my closest friends is obsessed with London and all things British. Why not take the advice one person, who I happened to know has great taste (obviously as we are friends), as opposed to 50 strangers on various travel platforms? Quite right. And finally, if the airfare had been astronomical, sad to say, we most likely would have had to pass.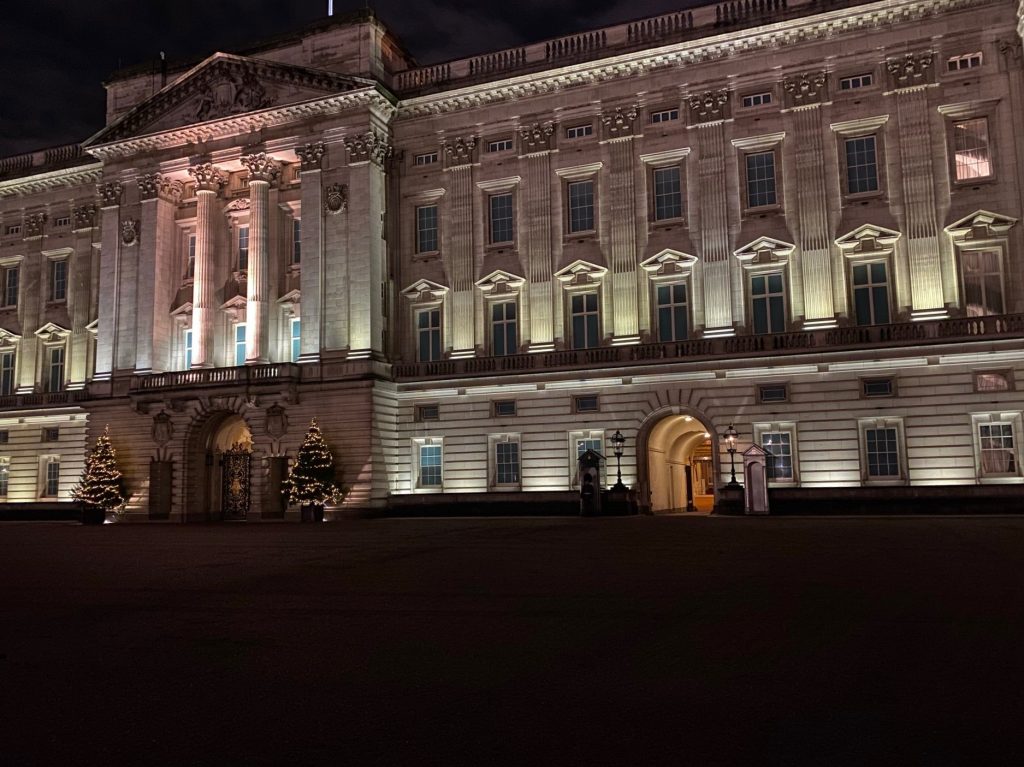 The airfare was $1,300 per ticket for coach. This may sound high, but this was a last-minute nonstop to London from a northeastern airport at Christmastime. The flight was over seven hours, and we were accustomed (painfully) to paying around $1,000 for a five-hour flight to Aruba (for coach).
Business class was a whopping $9,000 per ticket. I got on the upgrade list for 25,000 miles plus $350. I couldn't believe it, given the season, but we scored business class both ways. What a treat, especially when the flight to London was a red eye—to have a seat that reclined into a bed was, pun intended, a dream.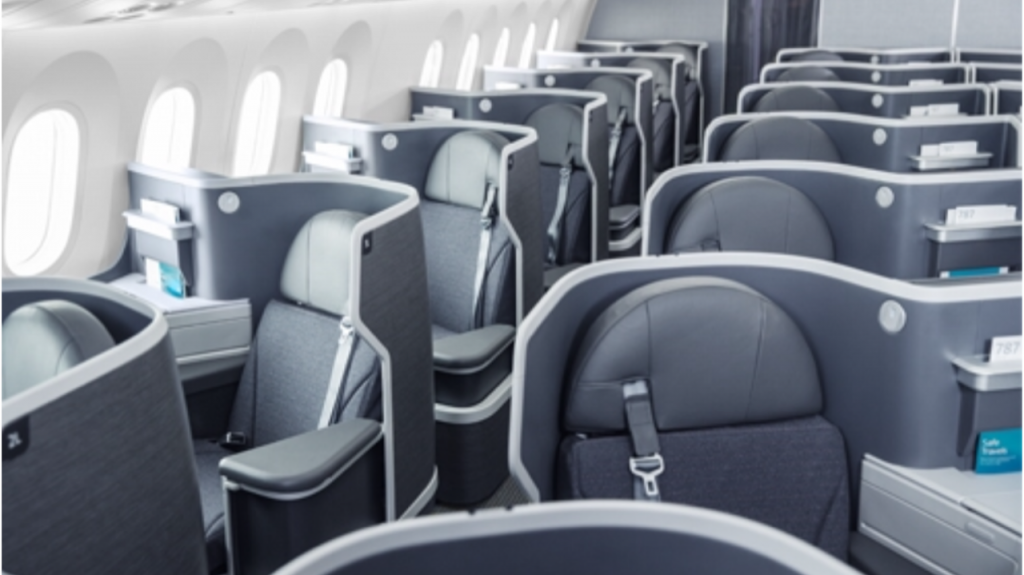 And speaking of a dream, what an unexpected and pleasant surprise our hotel was. Located in the Westminster section of London, St. Ermin's Hotel is part of the Marriott Autograph Collection. A favorite of the bride and groom, the hotel provided our accommodations and housed the festivities surrounding the wedding.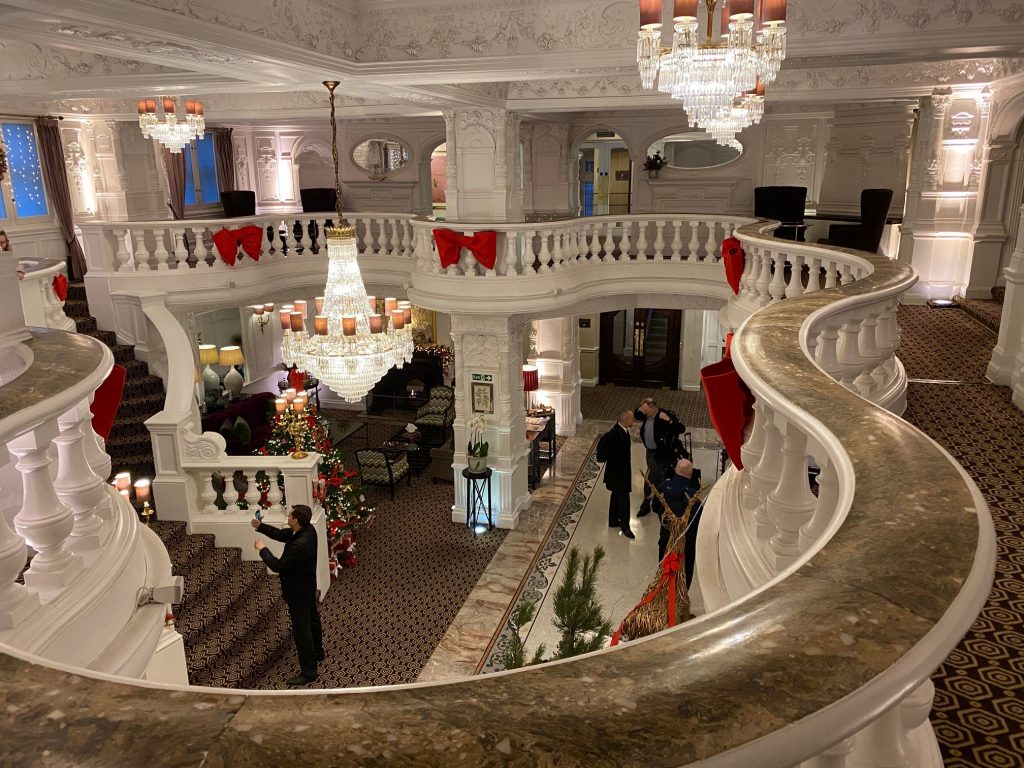 St. Ermin's Hotel is one of the city's best-kept secrets. The place remained a quiet solace—a gift to us—even given the bustle of the season. Most people (both visitors and locals) had never heard of it (minus the obvious taxi drivers). This was also surprising because the hotel has a rich history of being a meeting place of British intelligence and is centrally located by Westminster Abbey, Buckingham Palace, and the Houses of Parliament.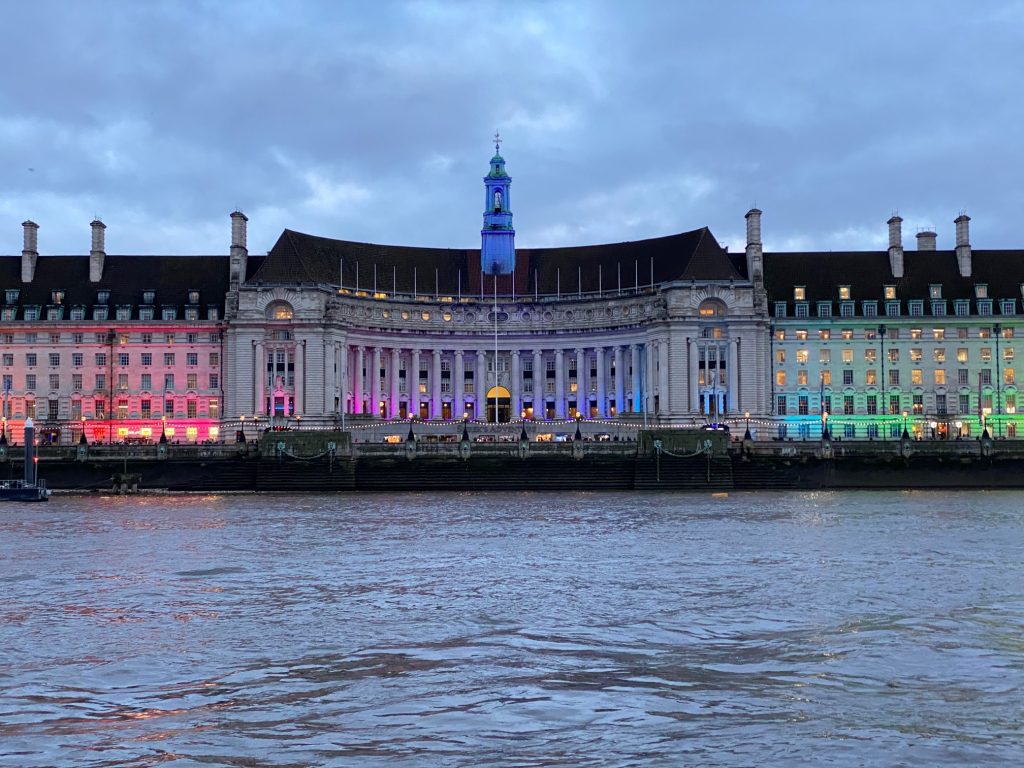 The hotel had everything we could possibly have asked for: beautiful architecture and landscaping, a quiet and welcoming lobby, spectacular room service, an elegant high tea, a fun bar, excellent service, and a great price point. They also did not charge for in-room water or Wi-Fi (an absolutely abhorrent tendency of most hotels these days).
They ultimately upgraded us to an executive room with a view of the courtyard for a total of $326 per night (including breakfast and taxes). A special shout-out goes to the concierges at St. Ermin's Hotel. I cannot remember the last time I relied on concierges so heavily for guidance and booking things when I could not do so due to the five-hour time difference.
For the wedding, the bride and groom did a great job of preparing their guests for London, especially those of us first-timers. They advised us to:
Take the Tube whenever possible, but beware when coming from the airport because many stations do not have lifts (elevators).
Consider Addison Lee if you are looking for a private car.
Pack accordingly—London can be cold and rainy in December.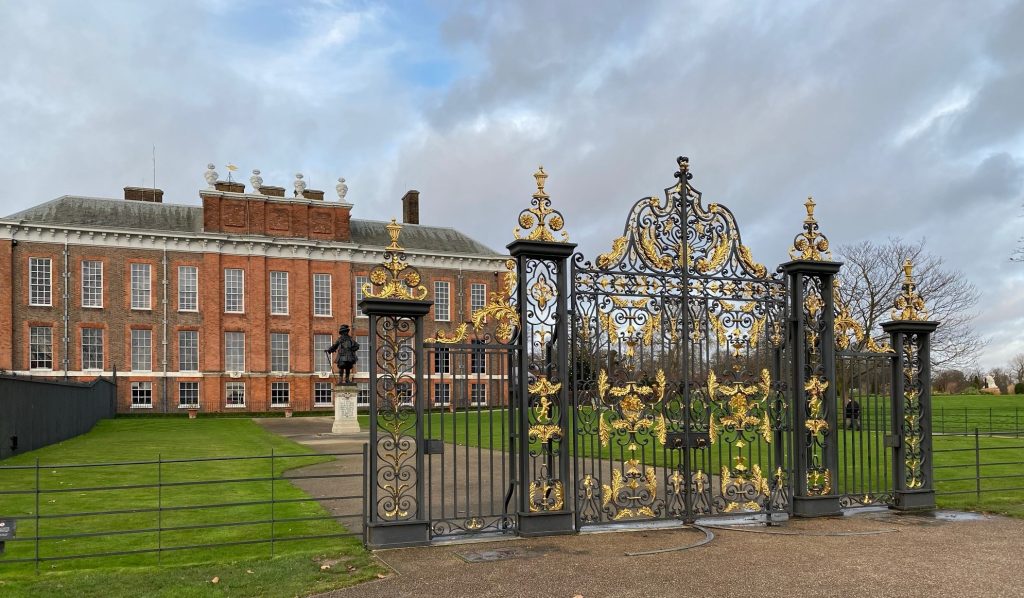 I gave myself permission to overpack for a change, and I was so glad I did. I was determined to learn from my younger self sitting on a ski lift in Vermont too busy trying to look cute but freezing miserably instead. The weather was in the 40s most of the time we were in London. It was rainy, and the sun rose around 8:00 a.m. and set around 3:40 p.m. Additionally, we were on foot more often than on any other form of transportation. I brought comfy shoes (even added supportive inserts), dressed appropriately, and was never encumbered by the weather. The result was we had a blast the entire trip and got in some much-needed exercise given all the carrying on.
This last piece of advice meant we had much more luggage than usual (layers are key in London). Given the possibility of not having an elevator, we decided to book Addison Lee to greet us in person at the airport ($106 before tip; our return cab was $93).
My biggest dilemma of the trip was where to book in advance (everything is crowded in London at Christmastime) and where to allow flexibility—I resolved not to be overscheduled. I think we threaded the needle perfectly. We did just the right amount of relaxation, play, culture, history, socializing, exercising (and a wedding!) in five days. Here's a rough look at our itinerary:
Wednesday
We arrived at St. Ermin's at approximately 2:30 p.m. and took a three-hour nap.
At 5:30 we showered and changed into casual wear, determined to find a local pub.
We arrived at the Blue Boar, more of a restaurant than a pub, but lovely nonetheless.
We misordered; the burgers looked amazing, but we were craving comfort food. I had the curry, which was good but not great.
We went back to the Caxton Bar at our hotel and carried on with Gabriel the bartender until bedtime.
Thursday
We woke up late and ordered the most delicious breakfast: Eggs Benedict and an egg white frittata with goat cheese, peas, and microgreens.
We got an Oyster card (highly recommended) and took the Tube to the Tower. Mind the gap.
We toured the Tower ($80 for two) for three hours, spending one hour with our Beefeater tour guide (with dark humor but appropriate given the subject matter) and two hours touring Beauchamp Tower, the Chapel of St. John, the White Tower, the grounds, the shop, and—most impressively—the Crown Jewels.
We then took the Thames Clippers upriver to our Tube stop and hopped back on near Big Ben (unfortunately under construction).
Arriving back at St. Ermin's, we had to dress and prepare for the welcome party at three o'clock. The bride advised après-ski attire. What a fun time we had carrying on atop a double-decker bus provided by Vintage Bus Bar right in the center courtyard of the hotel. We enjoyed cocktails, sliders, and more—in the open air under blankets. Both the service and food were superb.
The party ended at seven, so we carried on with Gabriel again at the hotel bar where I had the most amazing late-night beef hot dog ($11). Note: the Brits are masters at all things sausage as well as perfectly crisped potatoes.
Friday
I booked only one excursion in advance: the Changing of the Guard. Through Fun London Tours ($51 for two), this tour was supposed to be great for all the up-close access. Our tour guide was fabulous but had to work around the full ceremony's cancellation due to rain (much more commonplace than I was aware, but it is better to have a guide to navigate and keep things interesting). I guess I'll just have to watch on YouTube.
Look how excited she is!
Afterward, we headed to TĪNG Restaurant in the Shard for high tea, which consisted of endless teas, scones, a glass of champagne, and tea sandwiches ($237 including tip).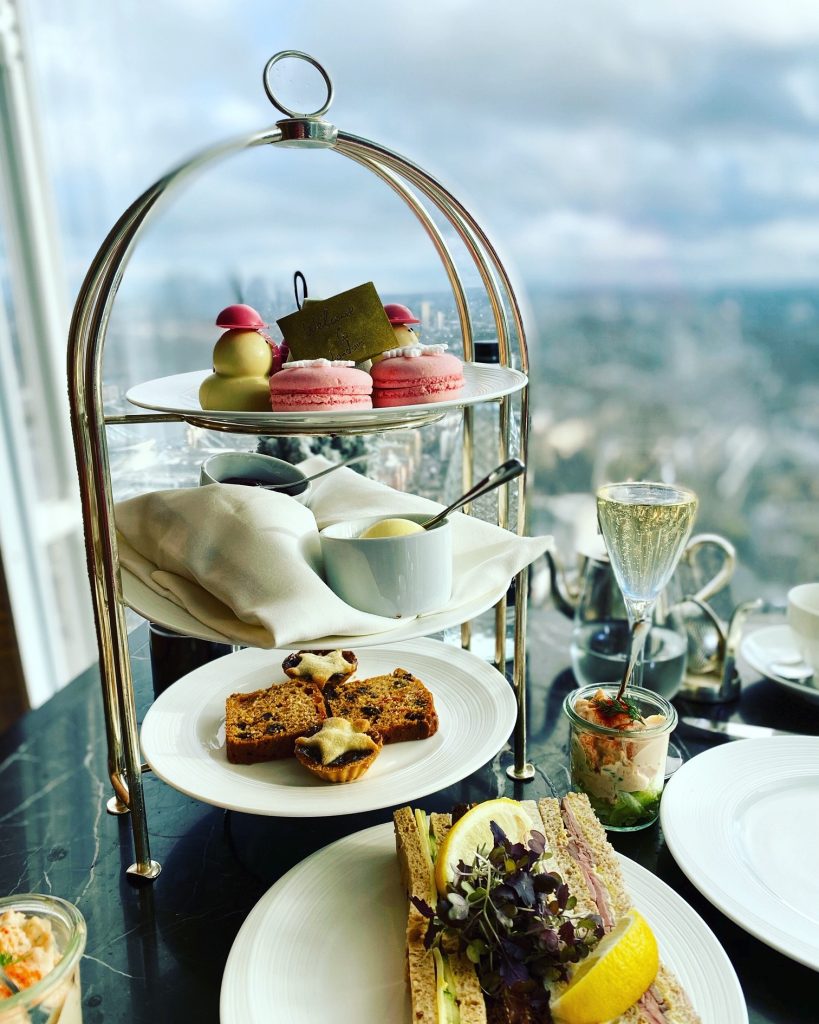 After walking around in the rain for hours, it was such a treat to sit in the tallest building in Western Europe, having tea as the sun finally came out. I loved this restaurant and would have gone back for dinner if we'd had the time. This tea was particularly amazing because it was much less stuffy than others in London. We also visited a phenomenal bar located on level 52, GŎNG Bar, but did not have the time to enjoy it fully.
After tea, we walked to the Tate Modern (free admission). Along the way, we hit the Borough Market. One of my few regrets of the trip is not finding the time to carry on in this amazing open-air gourmet extravaganza.
Saturday
The day of the wedding arrived. Wisely, we decided to take it easy. After breakfast in bed, we walked to the impressive Churchill War Rooms ($58 for two)—such a great exhibit for adults and kids alike. It's like Disney meets the History Channel. Winston Churchill directed WWII from this bomb shelter. I would absolutely return because there is so much to see. Reviews that estimate 60 to 90 minutes are underestimating it in my opinion. We were there at least two hours and would have stayed longer but it was extremely crowded. There are the map rooms, offices, sleeping quarters, corresponding audio and video, and even letters from his wife (and advisor!) Clementine. Pro tip: Bring your ear buds so you do not have to hold the radio to your ear and ask how many recordings there are so you can pace yourself.
Regarding the wedding, all I will say is that sometimes what happens in London stays in London.
Sunday
We slept late and took a cab to lunch at Kai Mayfair. This Michelin-rated restaurant has stunning artwork and ambience combined with delicious food.
Ask for the small plates menu (not always offered) so you can try even more. We did, and it was fantastic. We had miso soup, crag with mango, lobster two ways, spicy prawns, and jasmine tea ($163 including tip).
Next, we headed to Kensington Palace ($62 for two). I do not know why, but we had virtually the entire place to ourselves. What a delight. We could take our time, listen to the guides, and enjoy the majesty of the parlors. It was lovely.
A highlight was Princess Diana's note on a sketch of a dress being designed for her. Though she was pregnant at the time, her handwriting looked like that of a little girl. Sad.
After that, I needed a drink—straightaway. I had always wanted to go the Ritz London, and so we did. How elegant. This Ritz really does it right. We had a wonderful bartender who served us champagne, perfect cosmopolitans, and yummy snacks ($113 including tip). I did not want to leave.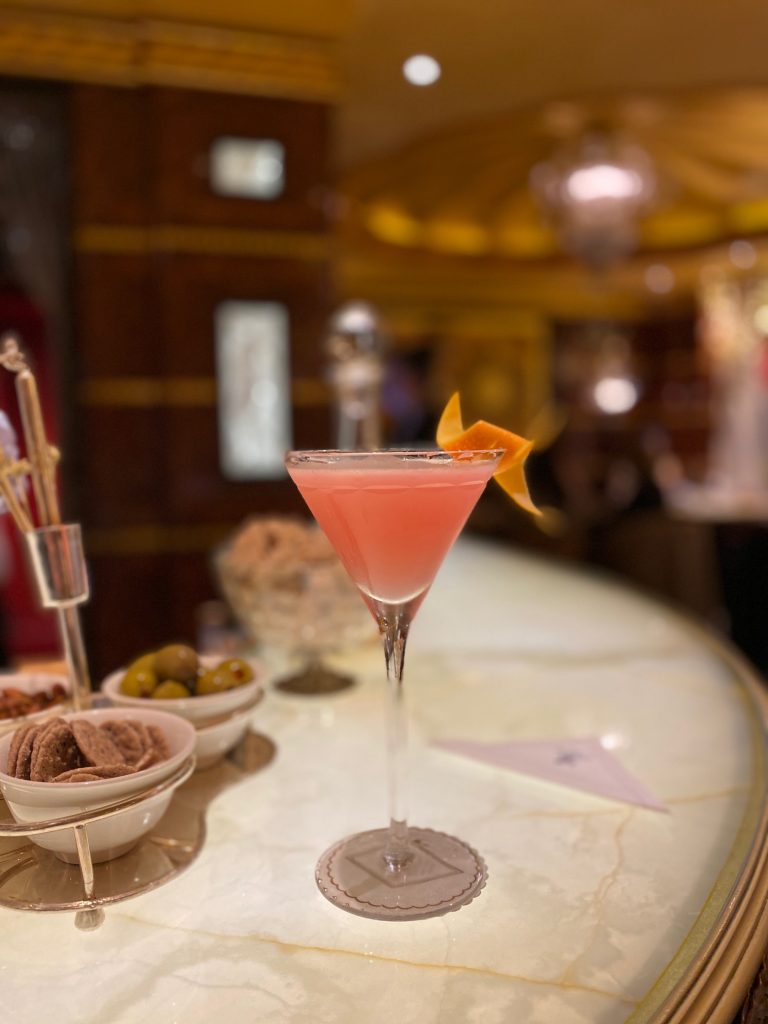 On our last night in town, we had dinner at the Wolseley, one of London's most famous restaurants. We had several glasses of wine, the escargot, a pea salad, and delicious coq au vin, but I would skip the beef tartare and rib eye on the next visit ($344 including tip).
For Your Consideration
I realize it was the holiday season and the kiddos were off, but I could not believe how many children here were in (what seemed to me) the most inappropriate of places. There were strollers, baby harnesses, and toddlers touring the torture chambers of the Tower, a packed lobby, and formal high tea at The Ritz. A little girl was running around the Michelin-rated Kai Mayfair restaurant with abandon. Where was Supernanny when I needed her? I jest, but it is just worth mentioning this consideration for London at Christmastime (depending on your perspective, family-friendly is not necessarily a bad thing).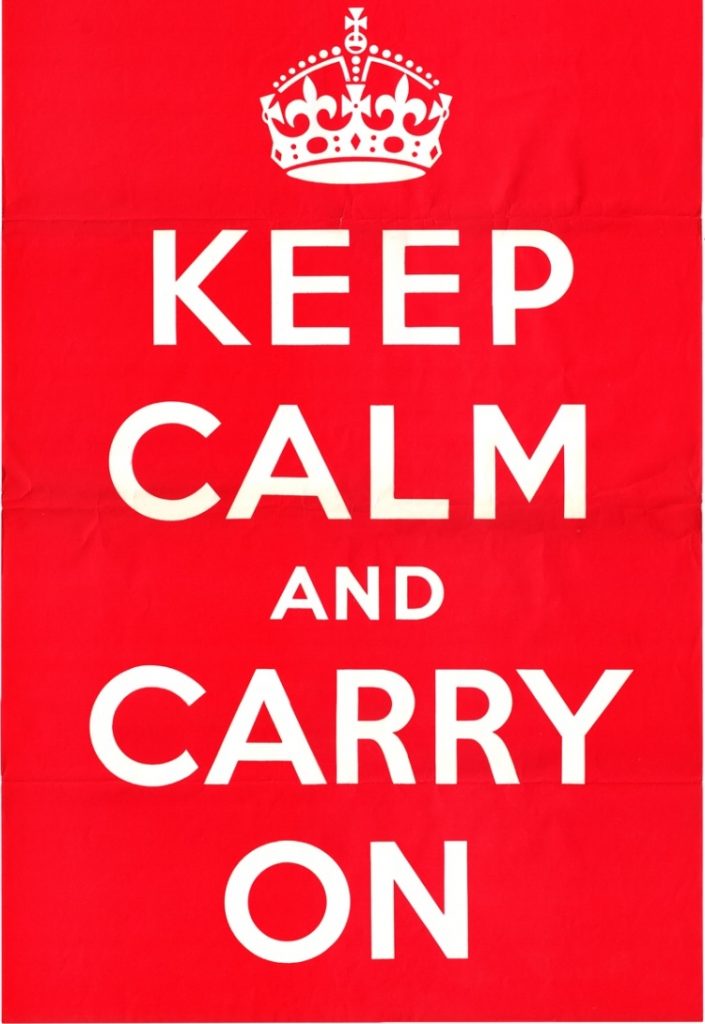 My husband and I love to grab a seat at the bar in a pub or restaurant, have a drink, and a chat with the bartenders and locals. We do this at home but even more so abroad to hear what little gems they may offer. To our dismay, most London pubs do not have barstools. Odd. You can order at the bar, but people tend to grab their drinks and settle at a table. How unsocial. I kid, but this is how they do it in London (though not at the Ritz).
We are nothing if not resilient. We got the message and would head to the aforementioned Caxton Bar at St. Ermin's Hotel where we thankfully could have a seat and rest our tired feet while enjoying great cocktails, food, and perhaps best of all, Gabriel, our bartender extraordinaire.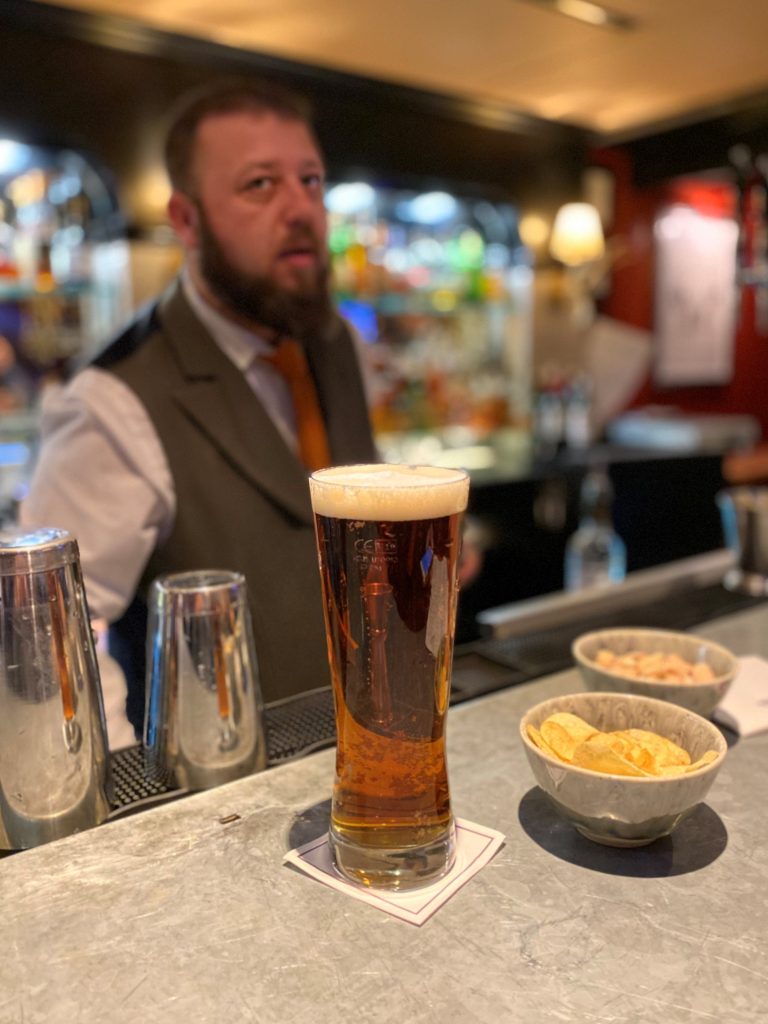 If You Go
I found service to be generally slower in London than it is in the States. I truly believe it's a cultural thing, plus gratuity is often included automatically. What's the rush? As an American, I admit I am often hurried. People warned me of never-ending dinners in Greece and Italy, but no one mentioned a slower pace in London. Once I got used to it, I simply enjoyed myself, and it was not an issue.
Unlike many countries we frequent, the UK (as well as most of Europe) does not take dollars. Pay for everything you can with a credit card that does not charge an international fee. Hit the ATM once you are in the country for small change and keep an eye on exchange rates.
All prices were converted to US dollars.